Forgotten Star: Jackie Coogan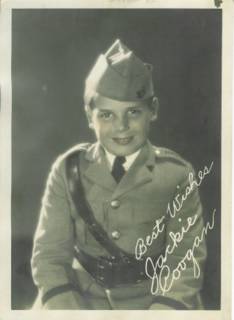 Jackie Coogan (1914-1984)

Perhaps it is a bit of a misnomer to call Jackie Coogan a "forgotten star", for he will forever be remembered as the kooky Uncle Fester in THE ADDAMS FAMILY television show. That role, however, came at the end of a long career. What may be forgotten about Coogan is that he was one of the first—and definitely most famous—child stars at the birth of American cinema.
Coogan was born in to 1914 to a family of vaudevillians. While performing on stage at the age of five, Coogan was spotted by actor Charlie Chaplin and quickly cast in his first role, A DAY'S PLEASURE (1919). Chaplin was so taken with Coogan that he planned the film THE KID (1921) especially for him. Success soon followed and by 1923, Coogan—age nine—was one of the highest paid stars in Hollywood and, as some sources state, the youngest self-made millionaire in history at that time.
Coogan's career trajectory, however, was one that is now familiar to those who follow the lives of latter day child stars. As he hit puberty, roles began drying up. In 1935, his father and best friend were killed in a car accident, with his mother marrying his business manager soon afterwards. Now in his twenties, Coogan asked his mother and stepfather for access to the millions he made as a child star—they refused. Coogan sued his family, but at that time, there was no law to protect him. He received a paltry $126,000 settlement. The publicity surrounding the case, however, caused a public outcry, and the California Legislature swiftly passed "The Child Actors Bill"—known as the "Coogan Act"—that required trust funds to be set up for any child actor in order to protect their earnings.
Between the late 1930s through the early 1960s, Coogan drifted about. He served honorably in World War II, enjoyed a brief marriage to pin up icon Betty Grable, and appeared sporadically in a string of B-pictures and television shows. By the 1960s, Coogan was in his fifties and nearly broke. In 1964, Coogan was cast as the zany Uncle Fester in THE ADDAMS FAMILY, which enjoyed a popular run from 1964 to 1966 and thereafter became enshrined as a classic of American television. Perhaps it was the universe's way of paying him back for all the turmoil of his youth—Coogan never wanted for money or work ever again. He passed away in 1984 at age 70 of a heart attack.